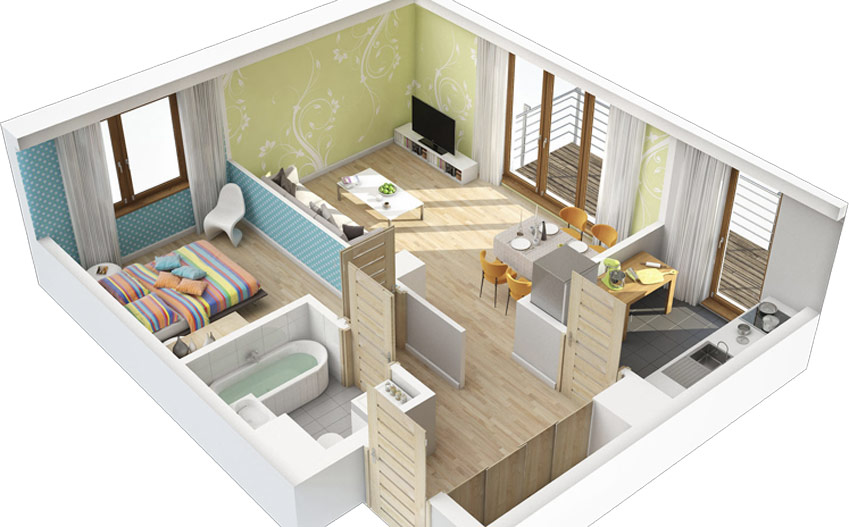 Operation principles of the Silver Care and Rescue System – SilverCRS
As part of the Silver Care and Rescue System – SilverCRS, we use identifiers that monitor behaviours that, depending on the devices used, collect the following data:
presence
motion
SOS alarm signal
movement of certain small or large doors e.g. a refrigerator
crossing the designated zones in the apartment
heart rate, skin temperature, number of steps and GPS location
Standard personal identifiers come in the form of key rings, pendants or clips. The monitored person carries it with them.
The identifier, in the form of the SiDLY armband, is worn on the wrist like a watch. The SiDLY armband, beyond providing identification in the apartment, also works outside. This is possible thanks to the GSM module. The GPS receiver provides location information almost anywhere.
The Silver Care and Rescue System – SilverCRS camera is a very advanced element of the system. They are placed in designated areas of the apartment, in order to monitor visible transitions to rooms such as a bedroom, bathroom, kitchen. The camera's task is to monitor the times of entries performed in defined areas.
The above-mentioned devices gather information regarding habits and behaviours. For example, typical behaviours are: getting up in the morning, going to bed, visiting the toilet, time spent in the toilet, eating time, meal duration time, time of leaving the apartment, time of absence as well as many more.
The above data forms an image of periodic and average behaviours that are used for regular comparisons with current incoming data. This data is processed at specific time intervals. At this stage, groups of control indicators are created which reflect behavioural curves. Each new batch of imported data is compared to the control indicators on many different levels. Any significant deviation constitutes a reason to inform the indicated persons (guardian, family, etc.), via SMS, telephone or email, concerning the observed deviations. The Silver Care and Rescue System – SilverCRS has a defined set of standard behavioural indicators. It is also possible to enter individual parameters which result from the users' knowledge and experience.
The system is complemented with the SOS button. By utilising this option a signal is transmitted to a designated person and activates a voice call with the apartment. A loudspeaker with a sensitive microphone is used, which is wirelessly connected to a tablet in the apartment. Thanks to this, it is possible to talk to the senior from a distance away. The above described Silver Care and Rescue System – SilverCRS is a perfect complement to regular work of caregivers, as it will inform them of emergency situations which deviate from the typical behaviour. Sending a signal to the caregivers allows them to make contact with a senior or to take prompt actions in regards to providing assistance or rescue.
The Silver Care and Rescue System – SilverCRS is constantly in development and is continually updated with new functionality.